Victorian Childhood
This box contains...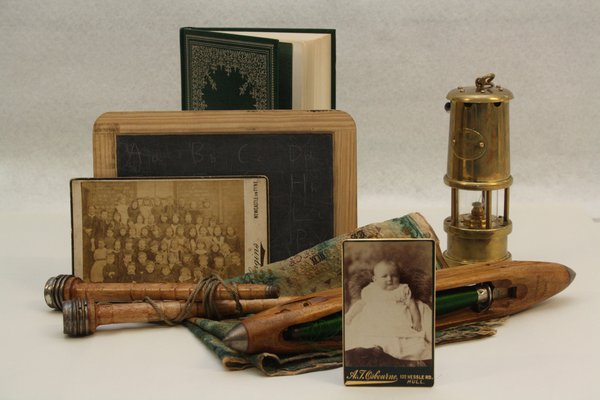 ---
A delightful box of original and replica objects which reflect a Victorian childhood, dealing with the key themes of health, education, work and play.
Chamber pot and newspaper cuttings
Wash bowl and jug
Christening gown and bonnet
Baby photographs
Boy's school uniform
Green Lane School pupils photograph
School copy book
Facsimile from Whitburn Infant School Log, 1868
Slate and pencil
Dip pen and ink pot
Finger stocks
Needlework sampler
Cane
Coins (Victorian penny, halfpenny and shilling)
Miner's lamp "The Miner's Friend"
Flying shuttle and cotton
Chimney sweep brush
Apron and cap
Picture scraps
Skipping rope
Marbles
Jacob's ladder
Whip and top
Zoetrope strips
Alice's Adventures in Wonderland book
Girl's chemise
Sugar tin
Proggy mat
Candle holder and candle
Fireplace tile and coal
Curling tongs
Workhouse token



Enquire about booking this box.
*Contents vary slightly between boxes - If you are borrowing for a certain artefact, please specify.