Stone Age Toolkit
This box contains...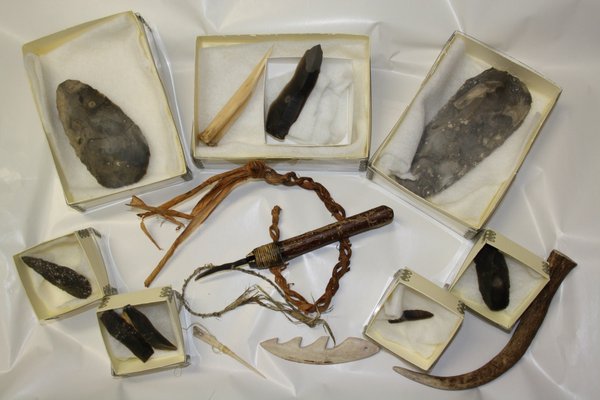 ---
Find out more about the stone age people with this brilliant Box of Delight. Explore a range of replica Mesolithic and Neolithic stone, flint and bone tools. Investigate their uses, discover what they were made from and explore how they were prepared.


Mesolithic

Bone needle
Bone awl
Burin
Flint tranchet knife
Flint blade
Microlith
Bone harpoon
Periwinkle necklace
Neolithic
Hafted blade knife
Neolithic axe head
Tranchet adze head
Whetstone
Basalt rubbing stone
Flint scraper
Flint chisel
Leaf arrowhead
Mortlake bowl
Other items and raw materials
Antler tine
Bone and antler beads
Nettle and bramble cord
Unworked flaked flint
Stone Age costume
Enquire about booking this box.

---
Why not support this loan with a visit to the Great North Museum: Hancock for an Investigating Prehistory workshop?