Rocks and Fossils
This box contains...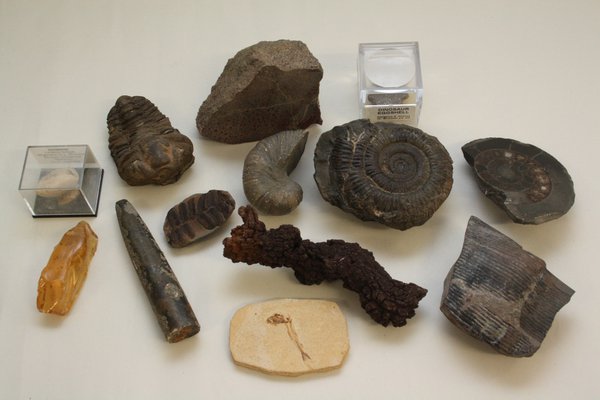 ---
Dig into the awesome world of geology with this great collection of rocks and fossils! Children can handle and examine the specimens in detail with magnifying glasses and gloves which are provided. There's also a geologist's outfit and tools so your pupils can explore this career path.
Fossils:
Dinosaur shell fragment
Dinosaur bone fragment
Turtle coprolite
Gryphaea
Calamite
Dactylioceras
Neuropteris
Cylindroteuthis
Fossil fish
Copal
Echinoid
Trilobite
Shark tooth
Brachiopod
Ammonite (sectioned)
Ammonite
Bivalve (2)
Fossil plant
Sponge
Belemnite
Graptolite
Marine reptile bone
Crinoid stem
Horn coral
Stigmaria tree root

Rocks:
Granite
Basalt
Pumice
Obsidian
Conglomerate
Breccia
Desert sandstone
Shale
Chalk
Crinoidal limestone
Anthracite coal
Biotite gneiss
Marble
Mica schist
Slate

plus:
Gemstones and Minerals of the World display card
6 small magnifying glasses
Hard hat
Goggles
Compass
Map and cover
High visibility jacket
Mallet
Chisel
Tape measure
Minerals, rocks and fossils book
Local geology map
Model ammonite, belemnite and Ichthyosaur
Please note contents may vary between boxes.
Enquire about booking this box.
---
Support your Boxes of Delight loan by working with Great North Museum: Hancock.