First World War - Home Front
This box contains...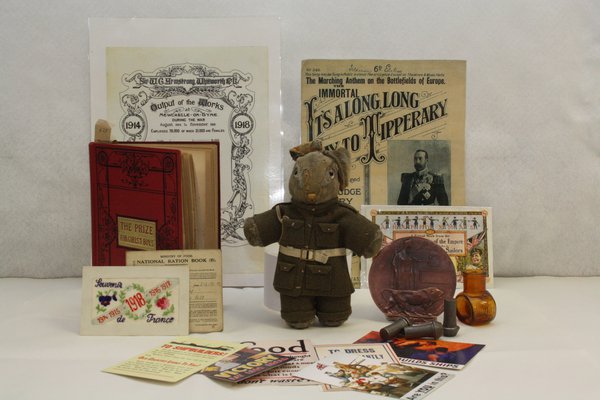 ---
What was it like for ordinary people in the North East during the Great War? Everyone did their bit, including women and children. Find out about propaganda, conscientious objectors, North East industries, women workers, children's war effort and how families remembered the fallen. The box is ideal for secondary schools and includes adult sized costumes.
People of the Great War CD and DVD produced by the Imperial War Museum
Newspaper
Women window cleaners photograph
Hartlepool munitions workers photographs
Munitionette's overall and cap
Nurse's uniform
Women's land army insignia
W.A.A.C. poster
Armstrong factory workers
Nurse doll
Peace ceremony photo
Overseas club certificate
Comics
Peace memento
Sugar ticket
Ration book
Propaganda posters
White feather
John Sadler photograph (conscientious objectors)
Widow's penny
Memorial plaque
Remembrance poppies
Framed memorial photograph
Poem postcard
Embroidered card
Christmas card
Soldier portraits
Medals
Peace mug
Diagrams of British and German Airships
Coal
Ship's rivet
Merchant seamen identity card
Knitted rifle mittens
Bovril bottle