Battle of Flodden
This box contains...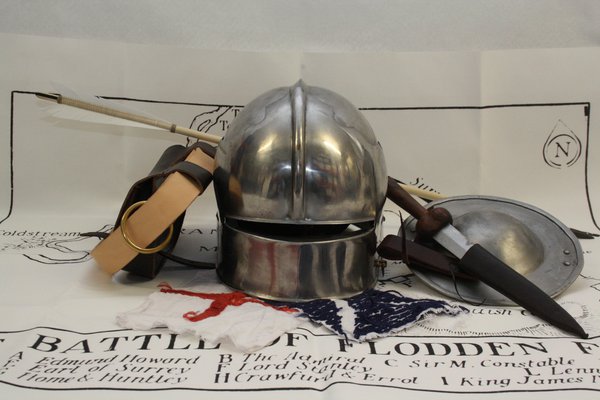 ---
Choose your weapons! Take part in the Battle of Flodden by enlisting as a sixteenth century soldier and finding out what it was like on the battlefield. Learn what happened during the battle and see how the English Army defeated the Scots. This box contains replica weapons and a giant map.
The Battle of Flodden took place in 1513 on the border between Scotland and England. It was the place where the invading forces of King James IV of Scotland met with the advancing army of England, led by Thomas Howard the Earl of Surrey and Second Duke of Norfolk. It was to be Scotland's greatest defeat with over 8000 men killed, including the King himself.
Sallet helmet
Ballack dagger
Map (tabletop sized)
Letter from Catherine of Aragon to Henry VIII
Portrait of James IV
Portrait of Thomas Howard Earl of Surrey
Arrow
English and Scottish flag patches
Leather pouch and belt
Coins
Dice
Bill
Buckler
Pitcher
Traditional folk music CD
Flodden book
Why not use this box to support your local history study.