Battle of Britain: Secret Bunker Challenge
This box contains...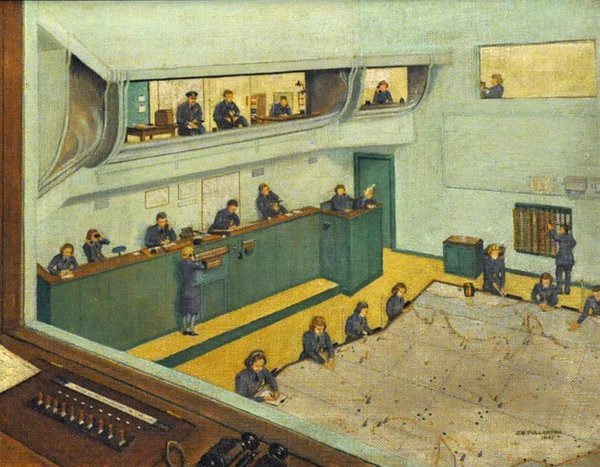 Image credit: FULLERTON, J.B., 1947 'Operations Room at Kenton Bar' with thanks to Squadron Leader Richard Tickell RAFVR (T), Sector 5 Commander Durham / Northumberland Wing.

---
Re-enact a day at RAF Fighter Command Headquarters in Kenton, Newcastle during the Battle of Britain with this exciting interactive challenge box! Please note, you may need extra adults to help with the carousel of 5 activities. Ideal for upper Key Stage 2 or above.
"The box was beyond expectations.. Fantastic!" Teacher, Beaconhill Primary School.
2 boxes containing:
Teacher pack and DVD
German target map
British ARP map
Magnifying glasses
Map of North East
Public warning poster
4 model planes
Morse key with 9V battery
International morse code sheet
Plotting map
Plotting rakes
Plotting blocks
Radiotelephony alphabet
RAF pilot's cap
WAAF cap
Operation Sea Lion document
Gas rattle
German incendiary bomb shell
Observer Corp badge
Binoculars
Luftwaffe pilot's helmet
RAF pilot's dress jacket
1930s telephone
Headphones
The War Medal 1939–1945
RAF operations room clock
WAAFS outside Kenton Bunker, 1944
RAF aerial photograph, 1947
Pre-war Kenton and Blakelaw map
Floor plan of Kenton Bunker
Radar station photograph
Nuclear radiation exposure map

Enquire about booking this box.

Watch the 10 minute film about the bunker which will set your challenge by clicking here.

Support your Boxes of Delight loan by working with Discovery Museum: https://discoverymuseum.org.uk...