Archaeology
This box contains...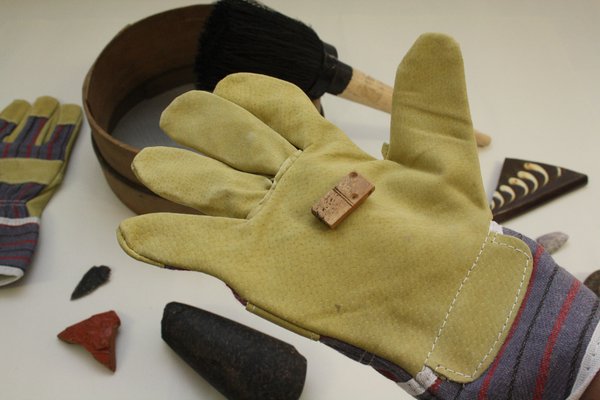 ---
This archaeology box will introduce the key concepts of the archaeological process through step-by-step instructions to demonstrate how archaeologists find out about our past.
Use the textile banner to understand the stratigraphy of our landscape and explore real artefacts dating from the Stone Age through to the modern day or find out about a local female Archaeologist Gertrude Bell. This box will support the Stone Age to Iron Age topic or could be used to introduce your students to chronology.
Sieve
Gloves
Trowel
Pocket tape measure
Tooth brush
Round handed brush
Magnifying glasses
Map of ancient Britain
Textile Stratigraphy banner
Stone Axe head
Flint Arrow head
Pot boiling stone
Mortarium fragment
Samian Ware fragments
Oil lamp
Animal bones
Roof tile
Dragonesque brooch
Strigil
Pilgrim badge
Iron slag waste
Fleur de Lis tile
Penknife
Slipware
Clay pipe
Food packaging and bottle top
Coins
Wooden spinning top
Gertrude Bell information pack
Enquire about booking this box.

Please note this box is usually offered as a 2 week loan.

---
Why not support this loan with a Move Ahead in History assembly, led by the Segedunum Learning Team.