Ancient Greeks
This box contains...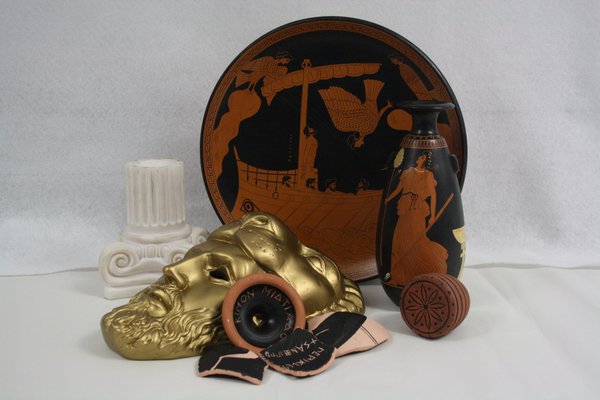 ---
Explore the Ancient Greek way of life with this box full of replica objects on the themes of everyday life, religion, architecture, sport, art and entertainment.

Civic Life
Socrates bust
Sandals
Cup with sandals (photograph)
Helmet
Great North Museum: Hancock helmet (photograph)
Sling shot
Athenian coin
Wax tablet
Ostracon
Knucklebones
Gods and Heroes
Zeus coin
Zeus relief photograph
Nike statue photograph
Nike at Haymarket (photograph)
Columns
Columns (photograph)
Votive ears and eyes
Cup with Heracles (photograph)
Heracles mask
Gorgon head
Household
Spinning top
Tortoise
Feeding cup
Loom weight
Spindle whorl
Oil lamp with woman weaving (photograph)
Jug with woman spinning (photograph)
Squat lekythos
Skyphos
Olympic Games
Strigil
Sponge
Aryballos
Jumping weights
Discus
Boxing leathers
Tunics
Cup with jumper (photograph)
Enquire about booking this box.

---
Find out more about an enquiry based history curriculum with Ancient Greeks here.
Support your Boxes of Delight loan by working with Great North Museum: Hancock. Find out more about the virtual learning offer here: https://greatnorthmuseum.org.u...