Ancient Egyptians
This box contains...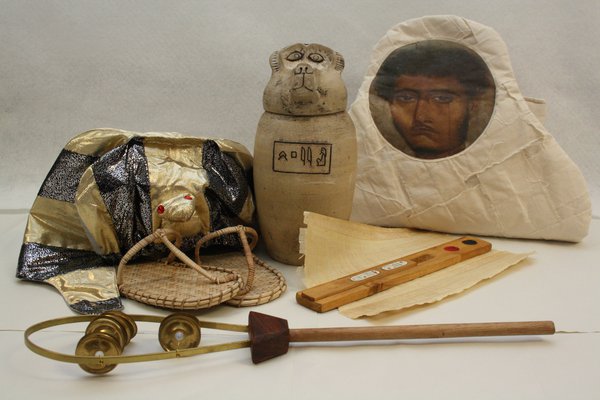 ---
Find out about the Ancient Egyptian civilization in this Box of Delights. Mummify a body, try on a pharaoh costume and examine high quality replica ancient Egyptian artefacts with this amazing box!
''Class 3 at Burnhope Primary School would like to thank the museum for the 'Box of Delight'. The children have really enjoyed exploring through the box and dressing up. Thank you''
-Burnhope Primary School, Durham. Yr3
Canopic jar
Amulet
God/goddess statuette
Brain hook
Map of Egypt
Pottery (clay lamp, beaker or plate)
Silver shell necklace
Seal ring
Horse and rider hair curler
Menat necklace
Senet game and gaming pieces
Sistrum
Cosmetic knife
Rosetta stone
Scribal palette and papyrus
Hieroglyphs chart
Scribal statuette
Tunic
Wooden comb
Fish hook

Enquire about booking this box.
---
Support your Boxes of Delight loan by working with Great North Museum: Hancock. Find out more about the virtual learning offer here: https://greatnorthmuseum.org.u...