First World War - Front Line
This box contains...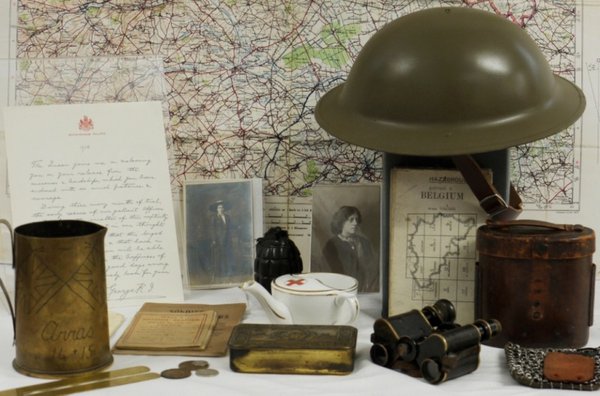 ---
Explore the front line of the First World War with this thought-provoking collection of objects, many of which are original. Themes covered include: North East stories, recruitment, training, uniform, equipment, rest and relief, weapons and trench life. Ideal for secondary schools, the box includes adult sized costumes.
"It provided lots of discussion, research and helped the children to engage with this topic. The children developed a more reflective attitude and appreciation for the scale of the Great War." KS2 teacher, Bridgewater School.
Recruitment poster
People of the Great War CD & DVD produced by the Imperial War Museum
Shrapnel
Rifle cartridge
Trench art vase
Shilling
Mustard gas smelly cube
Periscope
Red Cross invalid's cup
Foot powder
Binoculars
Button stick
Soldiers' guide to French booklet
Burnisher
Red Cross nurse pinafore
Soldier's uniform
Brodie helmet
Service dress cap
Wooden dice
Soldiers' marching songs book
Poets of the Great War booklet
Recruitment letter
Photographs of women
Family portrait
British army map of France
Princess Mary Christmas tin
Christmas card
Tobacco label
Mills replica grenade
Death penny
Embroidered postcard
White feather
Trench map
Gas smelly cube
Photo of soldiers picking lice out of clothing
Foot powder
Photo of shell shocked soldier
Enquire about booking this box.

---
Why not combine this box with a visit to Discovery Museum for a Soldiering On workshop.